I come from a small town in eastern Poland. When I was a kid, there was an amusement park once a year. Kids from all over the neighborhood flocked to hang out on the merry-go-round or laugh at the crooked mirror house. These fond memories of childhood were brought back by a visit to Julinek Park, although it is a much more modern complex than the one in my city.
Julinek Park, fun for visitors of all ages
Julinek Park is a large complex in Leszno, near Warsaw. Within the vast grounds, right next to the Kampinos National Park, you will find a number of themed attractions for both young and adult guests to choose from.
Children have a wide choice of inflatable slides and trampolines, as well as an amusement park with carousels and a mini roller coaster. Children and adults can also enjoy themselves in the rope park and on the climbing walls. In addition, a tubing track has recently been opened here, where you can slide down on inflatable tires. If we want to rest, mini golf is at the disposal of our guests. All these attractions can be used for a one-time entrance fee.
After visiting the park I have to admit that the choice of entertainment is very large. The rope park itself has no fewer than nine different routes. Four of them are adapted to the needs of adults and three are designed for children from 4 years. Before the competition, each participant undergoes a thorough training in the principles of belaying, also receives a helmet and a harness, so that everything takes place in friendly and safe conditions. The same goes for the climbing wall. Everyone is given a helmet and harness before starting one of the seven climbing routes.
Water Park in Julianek
In June, another major attraction was opened in the park – a water park. The complex of pools and slides is in the open air, which prevents visitors from using it on cool and rainy days.
Unfortunately this was the case during my visit. At that moment dark clouds hung over Juliek, from which it rained now and then. Despite this, I was able to take a good look at the object, which looks very interesting. In addition to the pool, which is two meters deep at its deepest point and a complex of five slides, guests can enjoy the area with slides and water cannons. The water park diversifies Juliek's offer in a very interesting way. I will definitely use this attraction on my next visit to the park.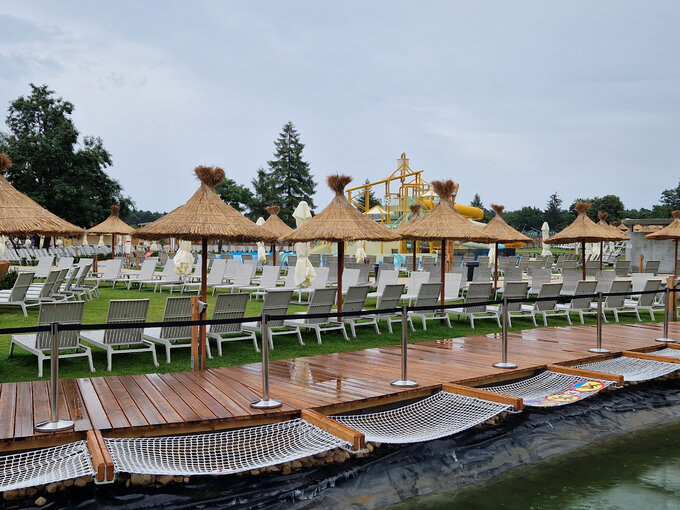 Juliek Park has not forgotten the past
The park referred to his circus past in a very pleasant way. It is worth recalling that in the second half of the 20th century, the settlement of Julinek was teeming with circus life. In 1950, the Technical and Training Base of the ZPR was established on the site of the current amusement park. A little later circus performers appeared here and the infrastructure increased for a gymnasium, clinic or rooms for animals, such as: elephant house and seal bath.
The circus environment was so connected to Julinek that the first circus school in Poland was founded here in 1967, and it is located here to this day. In its heyday, the winter months after the end of the season could accommodate around 1,000 people here, making Juliek the largest circus base in Europe. Unfortunately, Julinek's reputation collapsed after the privatization of United Entertainment Enterprises.
A very nice reference to the circus past are the weekend acrobat shows that take place in the gym, which looks like a circus arena. I left the performance, which lasted about 30 minutes, really amazed at what the adepts of circus art can show at such a young age. During the show, girls and adult acrobats loved their amazing acrobatics. At the end of it, the show jumping was also given by gentlemen, and more specifically by teenage boys.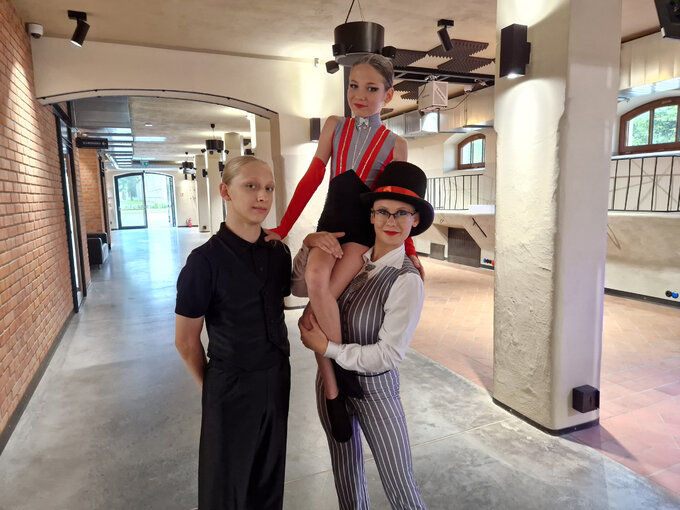 However, the shows are just one reference to a rich past. Visitors to the park can explore the wagon of the old circus troupe and dine behind bars that separated humans from wild animals not so long ago. The arena, games room, and block zone are located in the restored complex, which was a haven for circus performers in the mid-century.
Affordable pricing policy, another plus of Julinek Park
You can spend all day in Juliek Park. There are so many attractions that no one has to complain about boredom. You can also dine on site, for which we don't pay a fortune, and the choice is really wide. For a pizza here we pay about PLN 30-35, and at comparable prices there are also lunch dishes such as cabbage rolls, pork chop or pork neck in sauce. There is also a Mexican food truck in the park. The price lists of local restaurants can be found in the photo gallery.
Gallery:
Julinek Park, or a combination of past and present
The pricing policy also deserves attention. You have to pay PLN 99 for a full day entrance to Julinek Park, including the water zone. If we are not interested in the pool, the price drops to PLN 69. The park also offered some discounts. A ticket for children up to 16 years costs 89 or 59 PLN respectively. Family tickets are also available. On their birthday, the jubilees pay only 19 zloty for entrance. People over 60 or children under 3 pay the same.
The ticket policy on rainy days is also noteworthy. Already at the checkout I was told that the park may close earlier due to the uncertain appearance. Therefore, by paying extra PLN, I was able to pick up a voucher, which means that I will receive a free admission ticket on my next visit.
The only drawback of Julinek Park is the access for non-motorized people
While people with their own car won't have any major problems getting to Julinek Park, as well as parking, access for those who don't have a car is quite an interesting adventure. Since I belong to the latter group, it took me more than two hours to cover 36 kilometers (about 50 stops with three buses).
Bus 719 runs from Warsaw to Leszno. The route starts at the Bemowo metro stop and ends in the center of Leszno. From here we have a 3km walk to Julinek, 2km of which is a walk along a forest trail trampled by locals. I really like being in contact with nature and walking in the woods, but the spiders whose webs I broke on the way were quite dissatisfied with my visit. It was also not pleasant when it started to rain heavily. Then, instead of a narrow path, I would rather walk on the sidewalk along the road.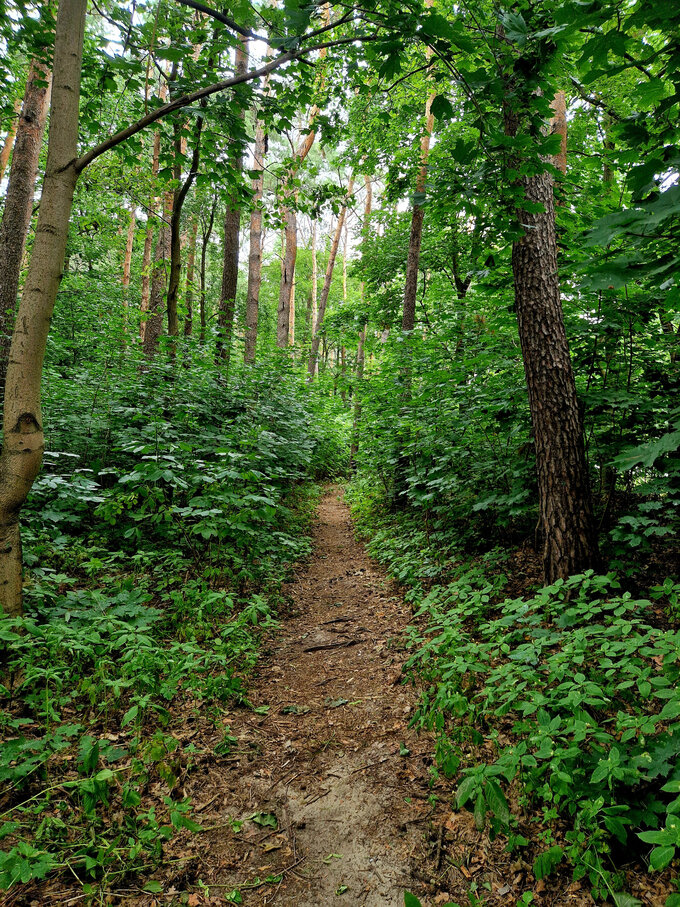 Despite this difficult crossing, Julinek Park is an interesting place worth visiting, especially if you live in Warsaw or the surrounding area. Families with children will have the most fun here, although adults will also find interesting entertainment for themselves.
Also read:
I visited the Suntago water park. The island paradise has its dark side and they are not crowds of visitors