[Opis wydawcy] We wander off to find ourselves. To put together a shattered soul after tragic moments.
Tribes live on the shores of an unknown sea in a faraway land. They worship the Hundred Faces God and his feline daughter Nefem and lead a simple, peaceful life. However, everything indicates that they will soon share the fate of their ancestors, whose civilization was wiped from the face of the earth by a huge disaster. The only salvation seems to be an escape deep into the continent, to unknown lands inhabited by strange and possibly hostile tribes.
In search of a new place to live, an expedition composed of daredevils, indicated by a prophecy, sets out. Perhaps the reunion of the two feuding tribes will turn the tide. However, the task will not be easy or safe, and there will be not only footprints, but also traces of blood on the paths that lead through the mountains. But in the gods there is hope. After all, they always lead us on the right path, and if we stumble over them, it's over our own feet.
Marcin Waincetel: How did Andrzej Pilipiuk get into the fantasy world? Because "Przetina", a racial story set in such a genre convention, is something new for you after all.
Andrzej Pilipiuk: More than twenty years ago I wrote the only fantasy story in my life: Blue Leprosy. It was somewhat unusual for this subspecies, as it described a biological war between humans and dwarves. In addition, this world was a little technically equipped – for example, the heroes used a heliograph for communication.
In the case of "Przetaina" I had been thinking for several years about a story that did not fit into historical reality. I decided to embed her in an imaginary world.
There are no elves or dwarves here – although the heroes will meet a rational, inhuman race. There is little magic, although the villages resound to the beat of sacred drums, hallucinogenic decoctions are drunk during rituals, dreams can warn of a real danger, and the shaman uses telekinesis.
I would classify this novel as a teenage fantasy with post-apo elements.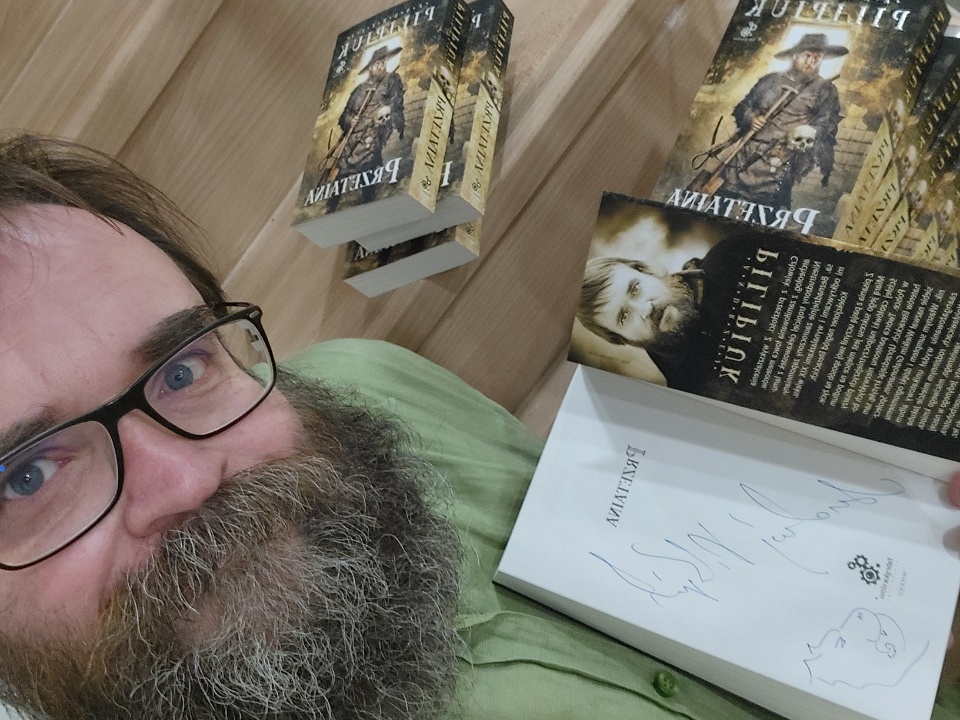 In a distant land, on the coast of an unknown sea, tribes live… You describe the presented world very accurately, referring to both material and spiritual culture. Did you feel the archaeologist's vein again while writing "Przetainy"? Because it is a world that has to be reconstructed and recreated from the ground up, as it were.
I took a few crumbs from different cultures and religions. We have a world a bit like early medieval Europe. The ruins of the Roman Empire inhabited the barbarian peoples. It was a period of decline of civilization – at the same time many fragments of ancient thoughts were still used.
In "Przetain" about 800 years have passed since an undefined catastrophe or series of catastrophes that wiped out the civilization of the ancestors. The tribes of nomads and semi-nomads mainly live in the once densely populated area. New peoples practice shamanic religions, only a few isolated groups worship the same gods as the creators of the swept civilization. Perhaps the ancestors did not complete the mission to convert more primitive peoples? The whole continent speaks the same language and uses the same script. At the same time, the place names are different. Some sound strange, others familiar – though not always understandable. This also points to local language traditions.
The heroes encounter traces of their former glory at every turn. Cobbled roads, bridges, remains of temples, ruins of stone buildings that can be adapted for new purposes. Several useful objects can be found in the ruins. Not only treasures, but for example tiles or bowls.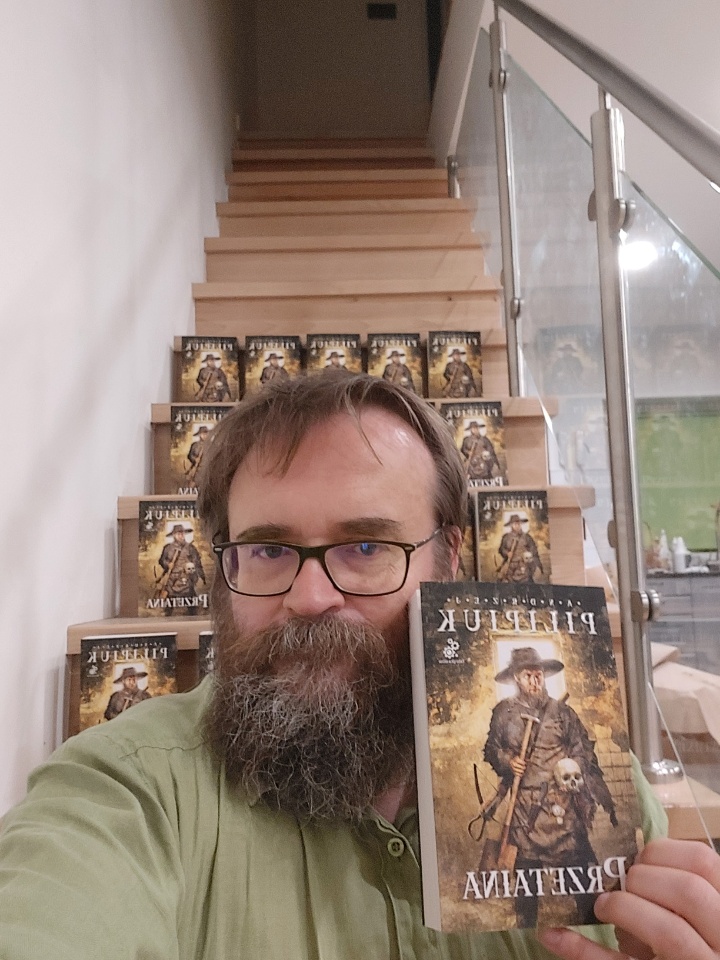 An important, but in my opinion not predominant theme in your book is love. Dave and the chosen one of his heart share a feeling that is as beautiful as it is difficult to realize. Do you realize that love for your heroes is often one of the main challenges? Just to remember Robert Storm, who Dave looks a lot like.
Basically, readers don't like heroes who are overwhelmingly better than them. It's hard for us to identify with that. It's hard to love them. Storm was meant to be a 'crippled genius'. He has a lot of knowledge, he is a polyglot, he knows the history of art. He can solve puzzles and break unusual codes. At the same time: he can't use his genius. He wears tasseled gel loafers, has to spend his pennies for rent and fuel. And he doesn't hang out with girls at all. He had misplaced his feelings dramatically.
Dave is different. He's a craftsman, he's not an intellectual eagle. He hopes for a girl, but she faces a difficult choice. Both Dave and Storm have similar moral instincts, sometimes to sacrifice something for others.
Love is a difficult subject. People get lost, misplaced feelings, miss opportunities… sometimes they trip over their feet, sometimes they get hit on the head and have to give way.
My friends, as a rule, also did not want to see stamps with me …
You've made the expedition the main theme of your novel – the search for a new place to live for heroes who know (or rather feel because of a prophecy) that their world is about to end. Because history repeats itself. Can we learn from the teachings of our ancestors? Worshipers of the Father, the Creator of the Hundred Worlds? Because you can feel that "Przetaina" is a story as a warning, a reminder of the past.
This novel can be read in different ways. On the one hand, the boy becomes a man as he wanders. Fate, or perhaps the gods, entrusts him with a mission and he gritted his teeth and tries to do it. On the other hand, his world is somehow organized after years of hard work, and here it turns out that it is just the calm before the storm. That everything around him could suddenly turn to dust. I wrote the novel before the war in Ukraine – but what happened there is disturbingly similar.
The high priest, by observing geological sites in various places of the coast, deduces that one of the reasons for the end of the ancestral civilization could be the catastrophic eruption of the supervolcano. Our scientists are also anxiously observing the phenomena taking place in Yellowstone and in the Flegreian Fields. It is also possible that this civilization was killed by a plague. Collective graves near the ruins of ancient villages can prove this. In our third year we are dealing with the covida epidemic… Tess' community is multicultural and religiously diverse – this creates conflict. European countries report similar problems. Finally, this world is threatened by the invasion of hostile hordes. It is difficult not to relate this to the war in Ukraine. The characters in the book still struggle with crop diseases and the effects of acid rain.
Fears, projections, I have also included such elements.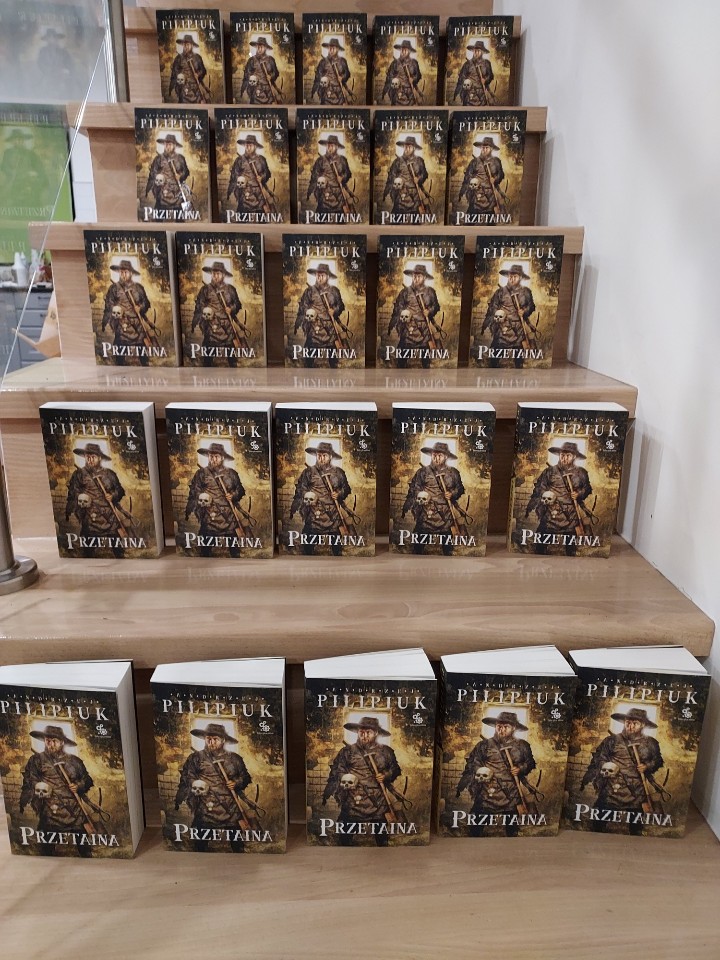 What was the hardest and most satisfying thing for you while writing "Przetainy"? Because you took on a difficult task – creating a whole new world with its own religious system, class division, very specific sensibility, very diverse heroes.
The creation of this world was certainly not difficult for me. History, ethnography and archeology are packed with useful themes. I've ripped, borrowed, compiled…
I fueled the heroes and assigned them tasks based on their characters. Jules Verne did something similar. I learned a lot from him. It didn't take much effort to make them. The story itself gave them a bit.
Please tell us what future Andrzej Pilipiuk is planning for us? Of course I ask about the great and expected return of Jakub Wędrowycz, but also about other stories you are working on.
Right now I'm way behind halfway through the 10th anniversary bundle of the adventures of Jakub Wędrowycz. We will learn from it what Nicolaus Copernicus did at the flat-earth congress, what the risk was of ignoring the Satanic plans of the Bardak family, and what is and how the so-called gut brain. We also return to the haunted palace in Liszków.
While I'm at it, the urgent task will be to write the thirteenth collection of Jacubess stories (the series "The Worlds of Pilipiuk"). And the continuation of "Przetaina" will not run out of ideas for the next decade.
Read an excerpt from the book "Przetina":
overweight

Issuu is a digital publishing platform that makes it easy to publish magazines, catalogs, newspapers, books and more online. Easily share your publications and bring them to Issuu's millions of monthly readers.
The novel "Przetina" is here available for sale.
Sponsored Article