Robert and Klaudia have been on the road for the past seven months – three of them traveling through Turkey and four traveling through Bulgaria. They converted the motorhome that became their home using YouTube videos and parts purchased mainly on OLX. They told us why they decided to live the life of modern nomads.
Robert and Klaudia are a married couple who have left a steady job and an apartment to live and work on the road
– The decision to buy a large car was motivated by the fact that at the time our dog had diabetes and needed insulin, which should be kept cool, ie in the fridge – says Robert
Robert renovated the bus he had bought himself. – Materials for the construction of furniture, beds, paints, varnishes, even renovation tools were found on groups such as "Attention, garbage truck goes" or OLX
They started their journey with one dog. They have already returned to Poland with three of them and they are looking for a permanent home for the two in Turkey and Bulgaria
You can find more similar stories on the main page of Onet.pl
They built a camper for their sick dog, who didn't get to experience it. When they went on a trip with a new adoptive boy, they didn't expect to come back from the trip with two more. They only stopped briefly in Poland – to inspect the car and make some improvements, but above all to find a home for the dogs they encountered along the way.
On their blog Three feet on a journey not only do they share travel tips, but they also talk about living with a disability – a few years ago Robert was involved in a traffic accident, in which a tram shattered his leg. Since then, he has been living with a prosthesis that doesn't stop him from living a life that others wouldn't dare.
The life of a nomad is not yet very popular in Poland. What made you decide to do them?
Klaudia: We got tired. We'd previously worked full-time, spent our entire lives counting down the time to departure, and found that we'd rather just work on the road and not have to come back. It is more convenient for us for many reasons. It would be hard for us to move anywhere with just a week off and a regular car or hitchhiking. We decided it would be more convenient to just work and travel at the same time.
Robert: When we left, our financial situation was not so stable that we were really on our way. As copywriters, we had bad orders and only in the meantime we looked for better ones that would allow us to reconcile this lifestyle with work.
Klaudia and Robert started working remotely, which allows them to live on a constant journey

Photo: Robert Rafe / Trzy feet on the way

How did you get into travelling? Where did it all start?
Robert: We started working at a travel agency with which we made our first trip, but it soon became apparent that it wasn't for us. We didn't like the hotel because you had to keep coming back to it at certain times and the buses were too infrequent to explore freely. We planned our next trips in the hostel, and the next with a tent. Our longest journey was hitchhiking. We went from Poland to Morocco with our dog, which took us about three months. We hitchhiked the entire route and slept in a tent.
What fascinated you about this lifestyle that made you decide to buy a van and go out into the world?
Robert: The decision to buy a car was prompted by the fact that at the time our dog had diabetes and needed insulin, which had to be kept cool, that is, in the refrigerator. It is not possible to maintain this temperature while hitchhiking, so we opted for a van. Unfortunately, the dog couldn't see it.
During the seven months that you were on the road, did you have a moment to hesitate to drop everything and return to the apartment, to the old, stable lifestyle?
Robert: Not. Even when we hitchhiked in Morocco in 2019, we only came back to Poland because we had to go back to work. It happened in between jobs, so we took a year off and went to Morocco. But we don't want to come back. We already know this life and it is unlikely that we will not like it anymore.
What did you miss during your hitchhiking trip?
Klaudia: For example, I missed hot water. We washed in the cold most of the time, so we kind of missed the comforts of life.
Robert: And hot meals.
Klaudia: But in a bus, compared to a towbar, it feels luxurious. We're not missing anything. Hitchhiking was sometimes quite heavy, but we still preferred this way of traveling over the classic way of life.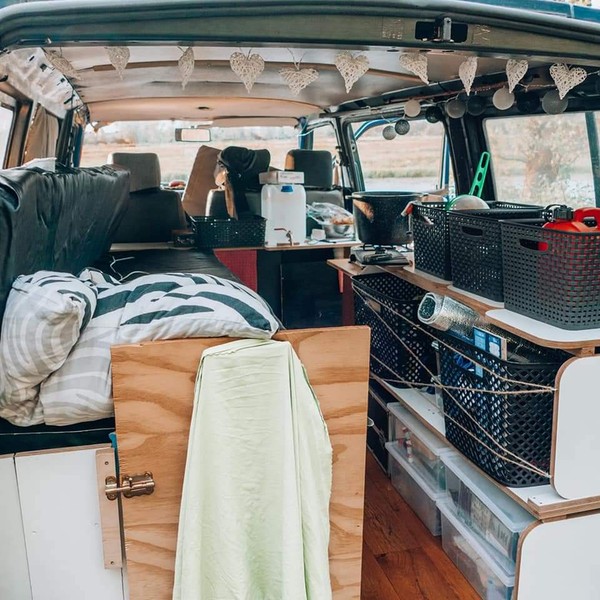 The interior of the camper van Klaudia and Robert

Photo: Robert Rafe / Trzy feet on the way

Do you already consider a motorhome as your permanent residence? Have you given up your apartment for good?
Robert: Yes, now we're back to do an overhaul and redo the build a bit. The first time I did it, I was looking for tips on the internet. It turned out that the bed is too big and too high and that there are not enough cupboards. Now I'm going to work on this before going to Morocco where we plan to spend a year or so.
Did you find all the materials and equipment on Facebook and OLX groups?
Robert: Some items had to be bought, such as the battery. But indeed, materials for the construction of furniture, beds, paints, varnishes, even renovation tools were found on groups such as "Attention, garbage truck goes" or OLX.
Have you added up how much the purchase, renovation and adjustment of the car itself cost?
Klaudia: We wrote it exactly on the blog. About 6.5 thousand PLN for the purchase of a car alone, 4.000. PLN for repairs, reworking the back of about 2 thousand. PLN, but we also sold the rear seats for 500 PLN so they would pay for themselves a bit.
How much does living in a motorhome cost you monthly?
Klaudia: Sure, the fuel itself was no more expensive than a flat tire. In Turkey we spent about 1,000 zloty, in Bulgaria about 1,500 zloty.
You could say it was the dog that changed your life.
Robert: If the dog wasn't there we would probably keep hitchhiking because it's pretty cool, you get to know a lot of people. While traveling by van, we actually only met a few people, mainly Poles. Hitchhiking gives you more opportunities to meet people.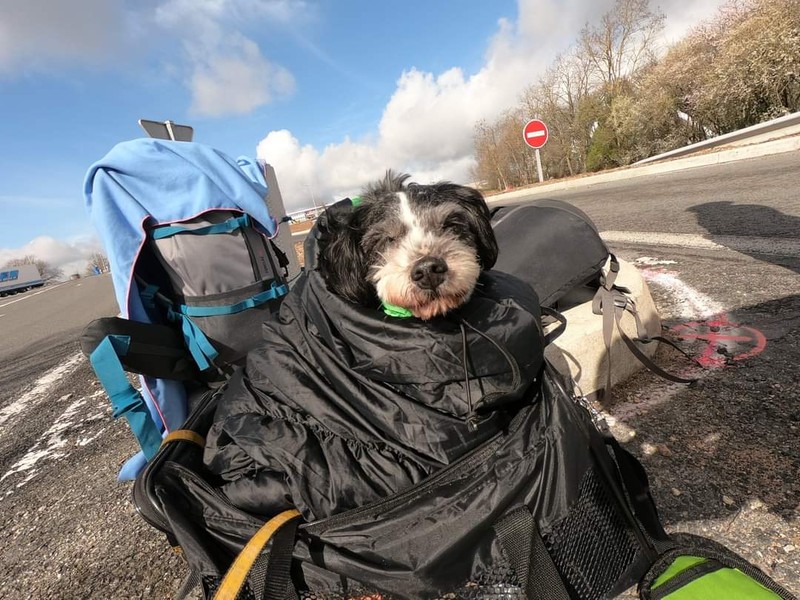 Zygzak, Klaudia and Robert's first dog on their hitchhiking journey

Photo: Robert Rafe / Trzy feet on the way

Your story started with one dog you went on a trip with, but you're already back with three. What is their story?
Klaudia: We adopted Misia after our first dog, with whom we were on our feet, who became ill and died despite treatment. After his death, we immediately adopted another one to cope with his loss.
Robert: It wasn't the first dog to die, so we knew from experience that the best medicine was to keep your head occupied. Preferably another dog because we can help him. And it's not that we forget about that dog, it's just easier to deal with.
Klaudia: Our help to the animals on the trip started in Turkey, where we found a sick cat. We took her to a doctor who determined she had a cat nose. We cured her, but she started to feel bad again and within a dozen hours her condition deteriorated and she died. On the same day we found a bitten puppy. He is now with us and we are looking for a home for him.
In general we didn't want any more dogs, but we were close to returning to Poland from Bulgaria. We drove past a place where there was really nothing but a lot of garbage. When the dog heard the car, he happily ran outside and was probably convinced that someone who got away from him was coming back for him. We had no choice but to get him out of there. When we found him, he still had a mark on the collar.
Robert: If we had left him, no one would have helped him. There are slightly fewer homeless dogs in Bulgaria than in Turkey, but there are still a lot of them, so hardly anyone cares about them.
I understand you are looking for a home for these two dogs?
Robert: Yes. The moment we found them, we were convinced. We have limited space ourselves and cannot afford another dog. But we help where we can.
Are you affiliated with an organization, is someone helping you or are you looking for a home yourself?
Robert: We have the support of OTOZ, because we used to take cats from them for temporary care. They publish our advertisements, we can sign an adoption contract on their behalf to have more control over the further life of dogs, but we take care of most adoption matters ourselves.
You've also set up a fundraiser to help help found dogs.
Robert: Yes, because we already had all our cards in debt in Bulgaria, and there was another dog that needed help and it turned out that he was sick, because he had parvovirosis. We decided we would set up a fundraiser and collected twice the amount we had assumed.
Now you are in Poland. How long are you staying here and where are you going?
Robert: We'll stay in Poland for a month or two, depending on how long it takes to rebuild the bus and find homes for Koks and Asen. We should be in Morocco in August, although we're not really planning anything exactly.
See also: KyivPride at the Equality Parade. The LGBT+ community thanks Poland