When you leave Lviv on the highway, in the distance you can only see fields, green grass and mountains. After about ten kilometers, Chorosno will appear before your eyes. Beautiful landscapes disappear and a temporary city for displaced persons from Ukraine appears. We linger for a while trying to find the entrance, but eventually we come across a large stretch of Garden Prostir. Surrounded by greenery and well-maintained, the center was once an ideal place to host events. From February 24, it became a refuge for people fleeing the war.
From the very first days of the Russian invasion, Garden Prostir began to receive a large number of Ukrainians fleeing the war. For some it was just a stopover, for others it became a home for a long time. The entire orangery was reserved for the needs of refugees. The fugitives could spend the night here, eat, stay a few days and then go abroad. At the moment no one lives in the conservatory anymore. A container city was founded near the center and presented itself before the war as an ecological place for organizing various types of events.
Ukrainian flag, houses and children on a swing
We are shown around by the owner of the organization Leo States and the director of the residential area with container homes, Stanislaw Luckowicz. We leave the building with him and in the blink of an eye we see the Ukrainian flag, children on a swing and 10 white houses. – These are our children from Lisiczańska and Słowiańska – says Luckowicz, inviting us to enter one of the houses.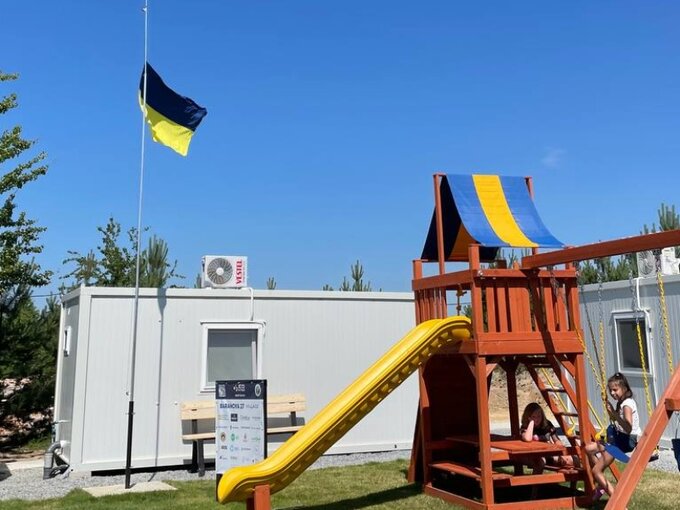 This is the last free container, all others already have tenants. – This house is waiting for its owners from Donbas, today we have to give them the keys – says Stanislaw, opening the door. Once inside you can smell wood and new furniture. The main room has four beds and a table with kitchenware. Next to the window is a kitchen with a refrigerator. Then we go to the bathroom with a new washing machine, shower and toilet. The director announces that the television will be connected in this way. Food is waiting for the displaced in the fridge so they don't have to worry about looking for shops or lack of money.
Gallery:
Container house near Lviv
– 90 percent of the people who live here have lost their home and have nowhere to return. Usually they come with nothing, no money, no personal belongings. We work for such people. We want to help everyone who has lost their home and had to flee their city because of the war – says Stanislaw Luckowicz. – We are a free hotel for them – he adds.
Before Stanislaw Luckowicz started helping refugees, he himself experienced the nightmare of war and escape. – My village near Kiev was occupied from March 5. On the tenth day of the war, I began to think about where we could go with our family. We drove all over Ukraine and frankly couldn't find any free housing. I was with my wife in Chernivtsi, Winnica, Ternopil. The last location was Lviv. Although we had financial possibilities, we could not rent an apartment. They suggested to spend the night in the school on the floor, in the hotel on the table – he tells us.
– Seeing these terrible conditions, I began to think how quickly I can change this situation and help other people in need – remembers Stanisław.
Containers – a way to reduce bureaucracy
The only quick way around bureaucracy and countless permits was to create a container city. Luckowicz founded the Leo States foundation, which also started raising funds from external partners. Soon, thanks to the support of the Baranova 27 Foundation, a container city for 10 houses will be built. There are plans to expand it if other partners join.
Stanislaw gathered about 50 volunteers, Ukrainian entrepreneurs, architects, designers, planners, builders, charities and companies from all over the world. Their aim was to provide the families fleeing the temporarily occupied territories with comfortable living conditions in the shortest possible time. – After three months, on the 90th day of the project, we handed over the first keys – emphasizes the creator Leo States.
Limited resources, big plans
During the conversation with us, Stanisław admits that the biggest concern is financial problems. – We want to provide every needy family by giving them a home and food – he says. – Now they have it all for free, because we have financing from our partners. But the more houses there are, the more money we need – he explains.
Currently, Leo States has confirmed funds for an additional three "districts"† – Soon 40 more containers will be built in this place, in which displaced persons from different parts of Ukraine can live – says Stanislaw, showing us the area that is already being prepared for construction.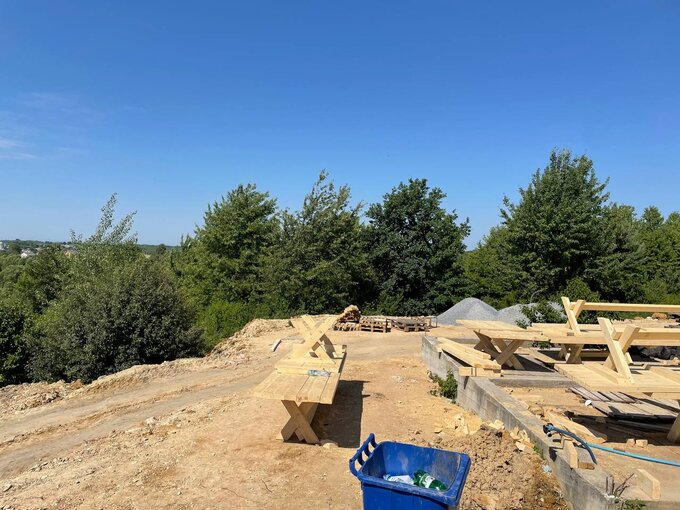 People who received free housing from Leo States can count on a bit of stabilization in times of war. – They have a place to live. In fact, when I come here in the evening, they are in a good mood. We know that these people have lost everything, but we are trying to give them the certainty of tomorrow, explains Stanislaw.
"It's fine here, but we want to go home"
Outside we meet Liza and Katia. Although the girls are 11 years old, they already know what war means. They ran away with their families from Słowiańska and Lisiczańska. The latter city was occupied by the Russians in early July after heavy fighting. During the conversation, the children show us presents from American partners, they try to enjoy little things. When asked how they are doing here, they answer almost unanimously: "We feel good here, but we really want to go home."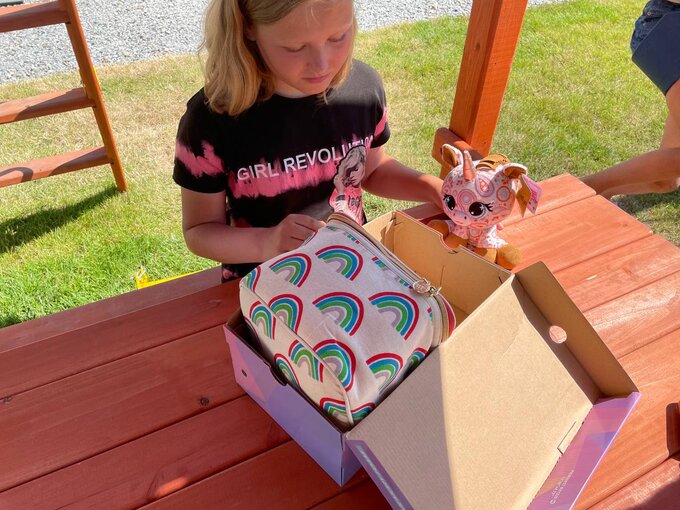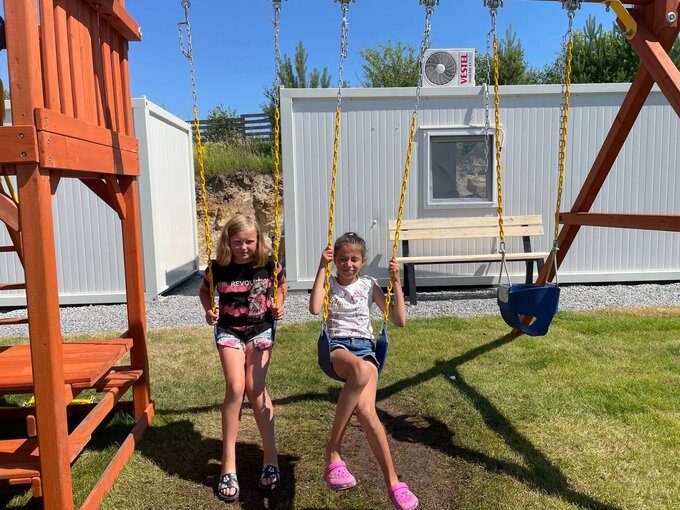 We'll be back, because there will be who we should come back to?
In one of the houses lives Wladyslawa, who gave birth to a child at the age of 18. When her daughter was 3 days old, the woman decided to evacuate to Lviv. Her parents went abroad and she stayed in Ukraine with her husband, daughter and sister. Now they live in their own temporary home.
– I did not believe that during the alarms I would give birth to a child and go to the shelter every hour – remembered the nightmare of the war in Słowiańsk Wladyslawa. There is fierce fighting between Russians and Ukrainians for the city in the Donetsk region.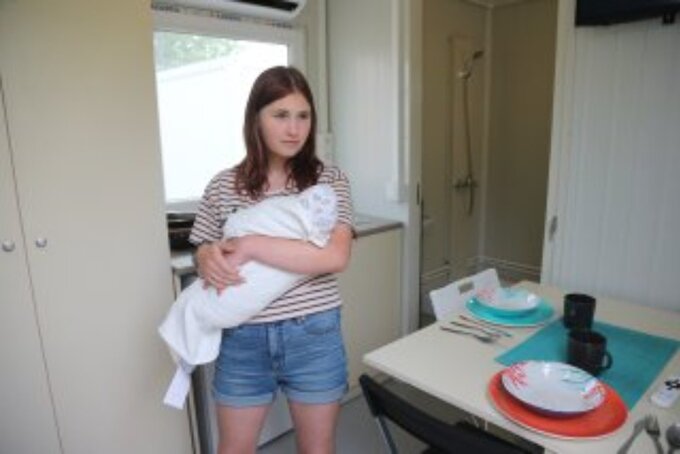 When asked how she feels now, Wladyslawa replies: "I don't feel anything anymore, I just live. I'm trying to do something, but I'd like to go home"† After a minute of silence, he adds: "We'll be back if there's someone to come back to"†
---
The Office of the United Nations High Commissioner for Refugees (UNHCR) reports that more than 12 million people have been forced to flee their homes in Ukraine since the start of the war. More than 5 million of them went abroad. Nearly 7 million are internally displaced persons.