In recent months, the Polish cluster of composite technologies, in collaboration with Małopolska, the regions of Lombardy and Slovenia, has prepared an application for the pilot project "Hydrogen" within the framework of the "Avant-garde initiative".
"Awangarda Initiative" – ​​​​"Vanguard Initiative"
Explain what an "avant-garde initiative" is – The Vanguard Initiative is an association of European regions committed to boosting economic growth and job creation through industry-led inter-regional cooperation, co-creation and co- investment based on smart specializations. Since its inception in 2013, the Avant-garde Initiative has been recognized as a strong and influential voice for the regional perspective of industrial change. Małopolska, and thus the Polish Cluster of Composite Technologies, belongs to this initiative and can therefore work intensively on it.
Pilot project "Hydrogen"
The proposal, as the title "hydrogen" indicates, concerns a broadly defined hydrogen initiative and this pilot project will address the following topics:
hydrogen production & production technology, plus standardization
diversification of economic activities towards hydrogen and commercialization of products
options for using hydrogen (mobility, energy consumption for households and industry)
distribution and export of hydrogen
Hydrogen Technology Skills
knowledge creation and translation
Choice – vote
On 17 June, the annual meeting of representatives of regions affiliated to the Avant-garde initiative in the formula of the High Level Directors Meeting took place in Brussels. On the agenda, in addition to discussions about the association's development plans or further support in building innovative value chains, was an important item related to the new pilot. During the vote on the adoption of the proposal, our pilot kept 26 out of a possible 30 votes and was approved for implementation.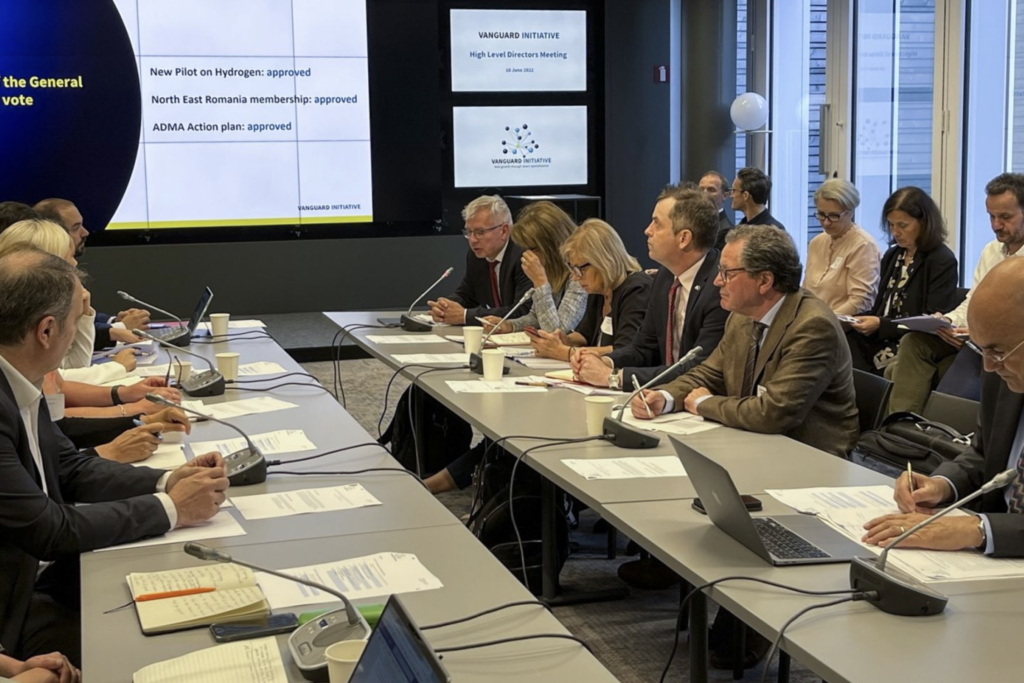 REGIONS PARTICIPATING IN THE PILOT
Lombardy (IT)
Lesser Poland (PL)
Slovenia (SLO)
Lower Saxony, Germany
Saxony, Germany
Norte, Portugal
Gavleborg, Sweden
Aragon, Spain
Asturias, Spain
Galicia, Spain
Scotland, Great Britain
Wales, Great Britain
Research institutes, industry, associations, academia and SMEs involved in the implementation of the pilot objectives described in the region of the proposal, including:
Polish cluster of composite technologies, Małopolska, Poland
Małopolska Regional Development Agency, Małopolska, Poland
Institute of Metallurgy and Material Sciences of the Polish Academy of Sciences, Małopolska, Poland
AGH University of Science and Technology in Krakow, Małopolska, Poland
GoFar Sp. z oo, Małopolska, Poland
Carbon Design Sp. z oo Małopolska, Poland
South Poland Cleantech Cluster, Małopolska, Poland
Krakow Technology Park, Masopolska Poland
National Institute of Chemistry, Ljubljana, Slovenia
Strategic Value Chain for the Circular Economy, Slovenia
GP sistemi, Ljubljana, Slovenia
RSE SpA – Ricerca sul Sistema Energetico, Milan, Italy
Centro Nazionale delle Ricerche (CNR) – Italy
Politecnico di Milano, Milan, Italy
Simplifhy SB srl, Milan, Italy
Bono Energia – Gruppo CANNON SpA, Italy
University of Degli Studi di Brescia, Group of Energy Technologies (ERGO), Italy
University of Degli Studi di Milano-Bicocca, Milan, Italy
Technical University of Dresden, Saxony, Germany
ENSO Energie Sachsen Ost, DREWAG – Stadtwerke Dresden, Germany
MOBINOV – Cluster Automóvel Portugal, Porto, Portugal
Energylab Technology, Vigo, Spain
Indominus Advanced Solutions, Vigo, Spain
Maritime Technology Center, Vigo, Spain
University of Vigo, Vigo, Spain
Sandbacka Science Park, Gavleborg, Sweden
University of Gavle. Gavleborg, Sweden
Wirtschaftsförderung Sachsen GmbH, Saxony, Germany
East4D GmbH, Saxony, Germany
Herone GmbH, Saxony, Germany
Leichtbau-Zentrum Sachsen GmbH, Saxony, Germany
All Partners and Members interested in participating in the pilot project may contact us. We are sending an application to interested parties