The Directorate of Sports Infrastructure in Krakow also invites all residents and guests of our city to participate in classes during the summer holidays as part of the "Train in Krakow!" project. Sports clubs from Krakow have also prepared an interesting offer. In August it is also possible to actively support the best cyclists and volleyball players in the hall and on the sand.
Stay in shape!
In July and August, many of us go on vacation and visit interesting places in Małopolska and other regions of Poland and the world. You will not be bored for a moment while waiting for the trip or after returning to Krakow. With the 'Krakow in shape' campaign, the city encourages people of all ages to become physically active. An important part of the campaign is: the project "Train in Krakow!" run by the Sports Infrastructure Management Board in Krakow, which organizes free training for children, adolescents and adults.
In running training (every summer Saturday) can be attended by any adult, regardless of their level of progress. The running and general development activities are carried out by specialized coaches, led by the Krakow Olympian, medalist of the World and European Championships, Grzegorz Sudoł. This year's trainings also include dedicated meetings with ASICS brand ambassadors – the technical partner of the initiative.
They are a combination of sport and fun general development activities for children and adolescents aged 6 to 18 (every other Sunday of public holidays). Among the qualified personnel are those with specialized training to work with the youngest.
Popular "poling", ie Nordic walking training is an offer for die-hard enthusiasts of this sport and people who just want to start their adventure with this activity. Classes are held every other Saturday in two groups – beginners and advanced. Participants can count on the care and valuable tips of certified trainers and professional sticks, which can be obtained during the initial training.
Rolling Lessons are scheduled on the second Saturday in July and the first Saturday in August. Led by qualified and certified trainers, they are aimed at people over 6 years old who know the basic techniques of inline skating and want to develop their skills.
Detailed information and training schedule can be found at: ZIS website in the Train tab in Krakow.

Clubs in Krakow invite you
Active summer is already underway in Krakow's sports clubs! Kozłówek Tennis Club invites you as part of the Summer Campaign from 4 to 14 July from 10 am to 12 noon. The cost is 100 zloty, registration by calling 609 657 857. In August, young residents will also go to a camp in Busko Zdrój, the limit of places has already been exhausted.
Tennis fans are also invited WKS Wawel† As part of the day camps that take place on nine different dates, daily training sessions on the field, going to the cinema and many games and activities are planned. Detailed information can be found on the club's website. The cost of the day camp is PLN 699. Half-day camps for football fans are also planned at Wawel from July 25-29.
He also organizes three summer camps for children TS Tram† The plan includes soccer training, as well as other activities, including kayaking or paintball. More information on TS Tramwaj Kraków's Facebook profile and by calling 606 253 908 (coordinator: Łukasz Szewczyk). Cost for people from outside the club: PLN 600.
Like every year, it invites you to semi-sports camps that take place in weekly stays KS Bronowianka† Participation is paid – PLN 500 for children from outside the club – but there are discounts for siblings. On the program are various physical activities, interesting robotics classes and a knowledge competition. More information on the website of KS Bronowianka.
Wisła Krakow Football Academy invites to Wisła Summer CAMP, a semicircle with a ball, girls and boys born in 2011-2017. The camps are scheduled to run from June 27 to July 22. In addition to training on the turf of the Municipal Stadium. Henryk Reyman, the participants will learn the history of the 13-time Polish champion, visit the largest stadium in Krakow and see what hides the ORLEN OIL Training Center in Myślenice. A specially prepared surprise awaits them. At the end of the camp, each participant will receive a commemorative certificate. The cost of the stay is PLN 690. More information on the website of the Vistula Academy.
Canoes, bike rides and other entertainment await the participants of the summer camps organized by The Krakow Canoe Club in the KOLNA . Sports and Recreation Center† You can register your child for one of the six camps. Cost: PLN 649. More information and registration on the website of the center.
Com-Com Zone Prokocim invites you to individual swimming lessons with a pass at a lower price than usual. There are also group workouts for people of all ages on dates
June 27 – July 27 (PLN 360) and August 1-26 (PLN 288). When registering for both courses, a 10 percent discount on the cheaper course. Lessons are categorized by age and ability.
With the little ones (from 3 months to 4 years) you can take swimming lessons and get used to the water. Com-Com Zone Prokocim also invites you to day camps, including daily poolside activities, three trips around Krakow, and other activities. Price: PLN 650. From June 27 to August 22, five-day stays start every week.
Also, on July 24-31, a swimming and sports camp will be organized with accommodation at Grand Chotowa Hotel SPA & Resort. Swimming training in the sports pool is planned for the participants, as well as attractions such as bike rides, games and activities, kayaks, pedal boats, a campfire and much more. Price: PLN 1700. Subscriptions for the full range of Com-Com Zone Prokocim are made by calling 694 401 701.
Take a break by the water!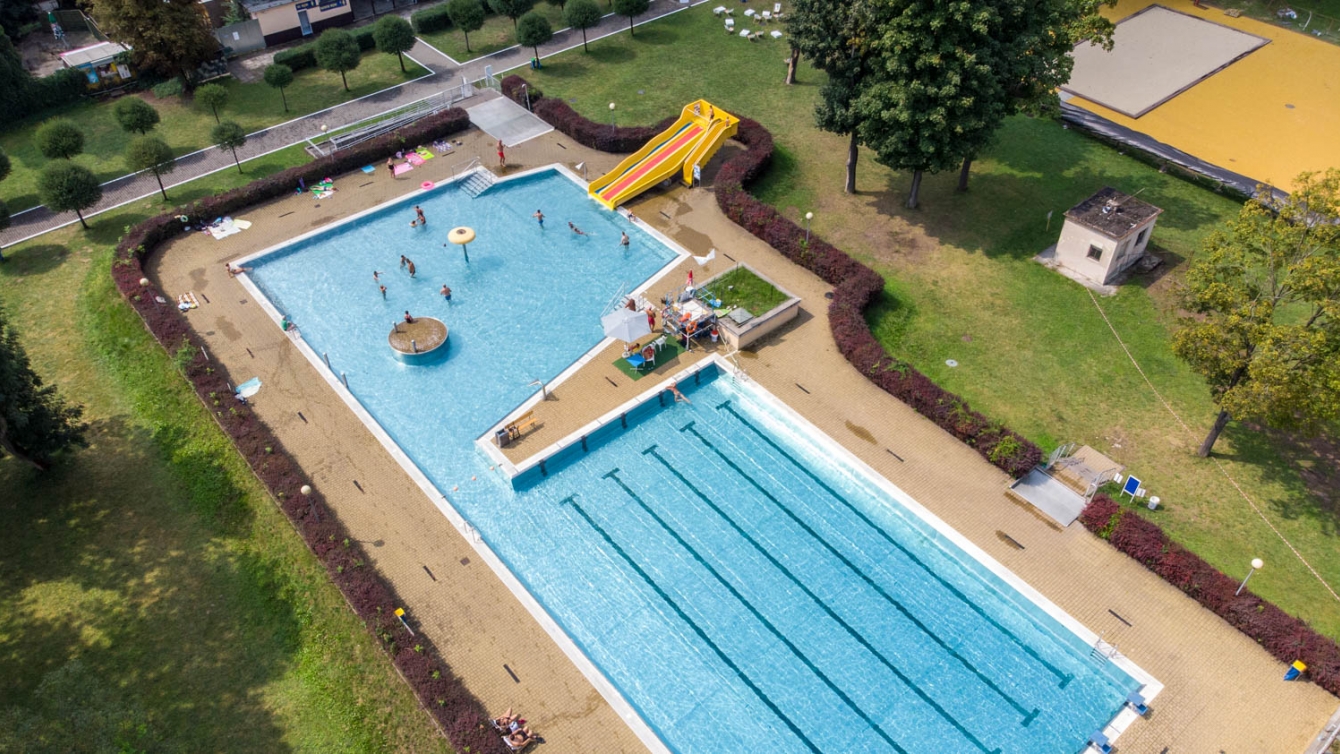 In Krakow there are many places where you can relax by the water during the summer heat.
Bagry Wielkie Park
– the beaches are on the side of ul. Kacza and Kozia
– the supervised bathing beach is open from 10 a.m. to 6 p.m.
– free entrance
Przylasek Rusiecki Pool
– ul. Rzepakowa 26
– the bathing beach is open daily from 10 a.m. to 6 p.m.
– free entrance
Harbor on the beach
– the beach on the Vistula River on Kurlandia Boulevard (near Kotlarski Bridge)
– open Monday to Friday from 3:00 PM to 9:00 PM and on weekends from 11:00 AM to 9:00 PM
– free entrance
Outdoor pool of the KS Wanda Sports and Recreation Center
– ul. Bulwarowa 39
– open from Monday to Friday from 10 a.m. to 6 p.m.
– ticket prices: normal PLN 25 (from 15.00 – 15 PLN), reduced PLN 18 – school, student, pensioners, pensioners (based on a valid ID card), from 15.00 – 10 PLN, children 4-7 years – 15 PLN (from 15.00 – 8 PLN), children up to four years free, family card 2 + 1 – PLN 50, family card 2 + 2 – PLN 70, KKR 2 +3 – 80 PLN
Cheering in Krakow!
During the summer holidays there is plenty of opportunity to cheer. In the second weekend of July (9-10.07) a youth football tournament will be held Krakow Cup† 30 teams from Europe (including Poland) come to the capital Małopolska. The matches will be played at the facilities on Ptaszyckiego Street in Nowa Huta. The tournament is organized by Hutnik in conjunction with the city and Com-Com Zone. The event will be attended by teams in six age categories – from U-9 to U-15.
August will be very intense for fans. 5.08 al. Focha on Błonia is finished by the participants 79. Tour of Poland† During the last stage, the riders will cover a route of almost 180 kilometers. The peloton will enter Krakow from the Kryspinów side. As in 2021, the stage will be completed with three rounds of five kilometers (Al. Focha, Al. Mickiewicza, ul. Reymonta, ul. Piastowska, ul. Królowej Jadwigi, Al. Focha).
Krakow loves volleyball, so two events await us in the second half of August – in the TAURON Arena Krakow and in the KS Wanda Sports and Recreation Center.
The largest sports and entertainment hall in Poland will be held on August 18-20 XIX Hubert Wagner Monument, the best friendly volleyball tournament in the world. On the dance floor we see Poland and the national teams of Argentina, Serbia and Iran. The tournament in Krakow will be the final test for the Polish team just before the start of the world championship, where the Polish team will compete for a new defense of the championship title.
A few days earlier (August 11-14), the sand fields at ul. Bulwarowa 39 is visited by the players of the World Champions League, who are participating in the tournament for the third time PreZero Grand Prix PLS† PlusLiga players will present the residents with a special four-person version of beach volleyball.