We have officially started our vacation! If you have no idea how to spend your summer days, take a look at the range of municipal facilities. Workshops, art classes, previews, events and much more await city dwellers who decide to relax in the city!
Holiday in the city 2022. Check out the summer events!
Holiday with CKŚ
When? I week 8,10,12 August, II week 16,18,19 August, III week 22,24,26 August
The lessons are taught by our instructors, Mrs. Regina Banik and Mrs. Grażyna Wojtak, who, as always, will surprise the children with their ideas – you can not get bored with them! Classes will be held at the Center for Silesian Culture in Zgoda, but there will also be excursions. Plans include a visit to the Silesian Uprisings Museum, a visit to the radio station, and a trip to Alpakaland.
The lessons are intended for children from 7 to 13 years old. The number of places is limited.
Scheme:
I week 8, 10, 12 August – cost PLN 100 (including snacks) Classes are held from 8:00 AM to 1:00 PM
8.08. – safe holiday – security college, meeting with police officers and city guards, lessons with instructors
10.08. – painting in different shapes – bags, T-shirts, pillowcases
12.08 – surprise trip (details coming soon)
II week, August 16, 18, 19 – cost PLN 100 (snacks included) Classes are held from 8:00 AM to 1:00 PM.
16.08. – art classes – wall painting
18.08. – match day
19.08. – surprise trip (details coming soon)
III week, August 22, 24, 26 – cost PLN 150 (including snacks) Classes are held from 8:00 AM to 1:00 PM.
22.08. – pets, stuffed animals made of pompoms
24.08. – spherical cinema
26.08. – surprise trip (details coming soon)
The printed application form must be delivered to the secretariat of the Silesian Culture Center in Świętochłowice or to competition@cks.org.pl.
Musical Neighborhood Meetings with Radio Silesia
When? July 16, 30, August 13, September 3
July 16 at 5:30 PM – 9:00 PM Chropaczów – Chropaczowski Park (entrance from Górna Street)

July 30, 5:30 PM – 9:00 PM Agreed – Silesian Cultural Center (ul. Krauzego 1)

August 13 at 17:30-21:00 Piaśniki – Heiloo Park (entrance from ul. Zubrzyckiego)

September 3, 5:30 PM – 9:00 PM Lipiny – Słowiański Square
The event will be hosted as usual by Agnieszka Strzelczyk and Arkadiusz Wieczorek, and you will be warmed up by your brother-in-law, Damian Music Band.
Holiday with the museum
When? July 18, 19, 20, 21 and 22, 2022 and August 22, 23, 24, 25 and 26, 2022.
The program includes: a trip to the shelter in Piaśniki, city walks, board games, art lessons, games of yesteryear).
Lessons take place from 10 a.m. to 2 p.m.
The cost of participation is PLN 10 per person / day. Phone numbers 32 2452388 extension 100.
Walk around Świętochłowice
When? July 2, 2022
A guided walk through the Centrum and Piaśniki neighborhoods – takes the participants back to the time of the Silesian Revolts and the intense industrialization of the region.
During the tour, monuments and post-industrial objects are shown that have been used in a new way. In addition, participants will move through attractive recreational, commercial and historical areas of the city of Świętochłowice.
A visit to the heavy combat bunker No. 39 in Piaśniki will be a real attraction. Participants will also have the chance to get to know the Świętochłowice Skałka up close or to visit the Silesian Uprising Museum.
Walk on sidewalks and park paths approximately 3 miles long.
Start: at the Museum of Silesian Revolts
2 reps: 10:00 and 14:00
Route: Silesian Uprising Museum -> Park Skałka -> Park Heiloo -> Shelter No. 39 -> Former Matylda Mine -> Pond Magiera -> ul. Wyzwolenia -> Museum of Silesian Revolts.
Reservation, registration: biuro@mpsl.pl, telephone: 32 245 23 88
Nature regains her territory – we get to know the Lipinka Valley
When? July 2, 2022
During the guided walk, participants will see how nature is reclaiming what it has lost to industry – the "Śląsk-Matylda" mine and the "Guidotto" zinc smelter. through the vantage point extending from the steep slope "Kopyto" mound. We learn about the industrial history of the visited areas. The stream valley is a very important area in terms of ornithology, it is also a refuge and breeding ground for reptiles and amphibians, there are rare plant species here – this topic will also be discussed.
Place: Świętochłowice – the intersection of Kościelna and Pileckiego . streets
3 walks: 10:00, 12:30, 15:00
Directions: ul. Kościelna -> Ajska pond -> Kopyto heap -> Ajska pond -> ul. Kościelna
Notes: the route requires steep climbs
Registration: biuro@mpsl.pl tel. 32 245 23 88
Handicraft Exhibition – Bożena Dutkiewicz / Finding
When? July 5-21, 2022
The handicraft exhibition can be seen from 5 to 21 July in the KWK Polska Torens in the cultural function building. Bożena Dudkiewicz is the author of beautiful works for you to admire.
A few words from the artist:
"Ever since I was a kid I loved works of art – drawing, then painting appeared. Over the years I have learned different techniques and different materials to make handicrafts. There was sewing, embroidery, painting, decoupage, felt, clay is also wood. Sometimes the question came: why don't I have one hobby? For so many years I have been making different things and always something new, new materials, new techniques. I have known for three years that I have found the answer – to create small works using the powertex technique. I now use the knowledge and skills that I have acquired over the years in my work, and I enjoy creating a smile on my face and eyes".
Vernissage "Time to relax"
When? August 11, 2022, 5:30 PM
Before us lies another vernissage as part of cultural gatherings entitled "Time to relax" by Ewa Godula. The meeting with the artist will take place on August 11 at 5:30 PM.
A few words about the artist:
A resident of Katowice, a retired physiotherapist. She prefers to paint with oil paint, although pastels, watercolors and acrylic are no strangers to her. She loves to travel, discovering new places that are often a source of inspiration for her paintings. The characters, in turn, are a challenge, an attempt to see if she will manage to portray the similarity and characteristics of the models. In 2019 she had her first individual exhibition and her works have been featured in numerous group exhibitions, which she shares with the Krajcok12 Art Group, to which she belongs. His workshop is still perfectly supervised by Piotr Naliwajka. Painting is like a holiday for her, it distracts her from everyday problems, gives her relief and peace.
Free entrance!
Summer chess lessons in the library
When? Every Tuesday and Thursday from July and August at 10:00 – 12:00
Yoga under the cloud with Aneta Nowacka
When? Every Wednesday in July and August from 18:30 – 19:30
Classes take place in the yoga zone of the sports and recreation center "Skałka"
Summer table tennis lessons for kids and teens
When? Every Friday in July and August 5, from 10:00 to 12:00
The lessons are given at CKŚ GROTA
Breakfast on the grass
When? July 9, August 6, August 20, 10:00
Breakfast will be held near OSiR "Skałka" harbor
A tourist trip to the castle in Oświęcim for children, teenagers and city residents
When? July 27, 08:00
More information from the organizer (OSiR "Skałka")
Summer chess tournament for children and teenagers
When? July 29, 10:00 a.m
The tournament will be held in branch no. 1 of the Municipal Public Library
Summer table tennis tournament for girls and boys
When? August 8 at 10:00 a.m
The tournament will be held in CKŚ GROTA
Cruise the Gliwice Canal. A visit to the palace in Pławniowice for children, teenagers and city residents
When? August 10 at 09:00
More information from the organizer (OSiR "Skałka")
Beach handball tournament for the cup of the director of sports and recreation center "Skałka"
When? August 13-14
The tournament will be held in the SPA "Skałka"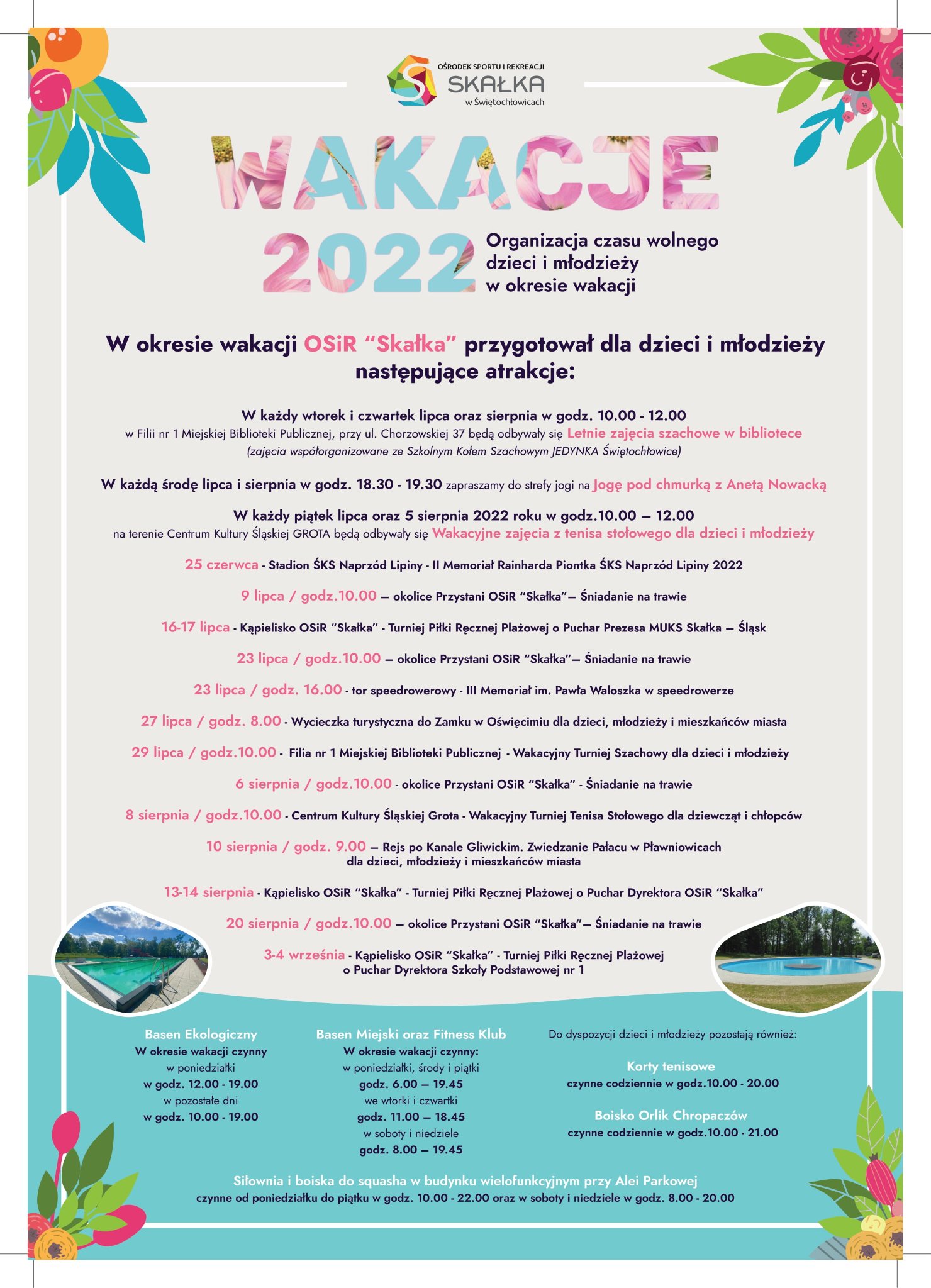 The swimming pool "Skałka" is open:
every Monday from 12.00 – 19.00,

from Tuesday to Sunday from 10 a.m. to 7 p.m.
Price list:
Normal ticket – PLN 15 / person

Concession card (pupils, students, retirees, retirees, seniors card, disabled and carers) – PLN 10 / person

Family ticket 1 + 2 or 2 + 1 – PLN 30

Family ticket 2 + 2 – PLN 36

Group ticket (summer camps, day camps for 15 people with a guardian – upon prior arrangement with the management of the Sports and Recreation Center) – PLN 7 / person

Children up to 6 years + disabled children – PLN 2

Ticket – Card 3+ / residents of Świętochłowice – 50% discount.