Poles are ready for a vacation – more than 70% already have an idea for a summer vacation. However, we are concerned about rapidly rising prices, which affect how we spend the summer, according to the report "Summer 2022. Poland's Vacation Plans".
The end of the school year is for many people a symbolic start of the summer holidays. On this occasion, Europe Ubezpieczenia – one of the leaders in the travel insurance market in Poland – checked how and where Poles will spend their holidays this year. The report "Summer 2022. Vacation plans for Poland", prepared at her request, shows that 71% of them plan to go on summer holidays in the near future. 11% of the respondents stay at home and 17% have not yet made a decision about this.
The Baltic Sea remains Poland's favorite summer destination.
Almost half of the respondents choose to spend their holidays in Poland, and in this group as many as 44% say they go to the Polish coast. 30% of respondents choose to rest abroad, and one in five people plan to spend their summer vacation both in Poland and abroad.
After two years of the pandemic, Poles have a huge appetite for summer vacations and plan to go on vacation in large numbers. Still, the percentage of people planning a vacation on the eve of summer is lower than before the COVID-19 epidemic. Our report shows that some respondents feel the uncertainty that is delaying the decision to go on summer vacation, says Tomasz Janas, travel insurance expert at Europe Ubezpieczenia.
To check, we asked Poland what worries them most about the summer holidays. 38% of respondents indicated inflation and rapidly rising prices, more than 17% feel uncertainty related to the war in Ukraine and 14% fear travel restrictions related to COVID-19. These factors have a direct impact on their vacation plans. Every fourth respondent admits that they are looking for a cheaper option to spend this year's holiday, and 20% have resigned from abroad and plan to spend their holidays on the Vistula River. According to the report "Summer 2022. Holiday plans of Poland", 71% of Poles already have an idea for a summer holiday.
Poles fear a spoiled holiday due to an unexpected illness or accident.
Protection against such events is the travel insurance. The report shows that 54% of respondents who spend their holidays outside Poland indicate that they purchase a travel policy. That is 12 percentage points more than in a survey commissioned by Europa Insurance five years ago. Back then, the purchase of travel insurance was indicated by 42% of people.
It is good that we are becoming more aware of taking out insurance for the duration of our stay abroad. An unexpected accident or illness can happen to anyone. A good tourist policy is a guarantee of on-site assistance and coverage of costs related to treatment or return to Poland – says Tomasz Janas., travel insurance expert at Europe Ubezpieczenia.
People who took part in the study see the benefits of travel insurance.
30% of them claim that having such a policy gives them a sense of security and "peace of mind". Almost 17% emphasize that in the event of illness or accident they can count on free access to professional medical care thanks to the policy.
Travel insurance is most often purchased from agents (38%), travel agencies (33%), an insurance company's website (14%) and a banking and insurance comparison website (5%). Europe Ubezpieczenia travel insurance is available in each of these places. Last year, 2 million customers benefited from the insurer's protection during travel and leisure.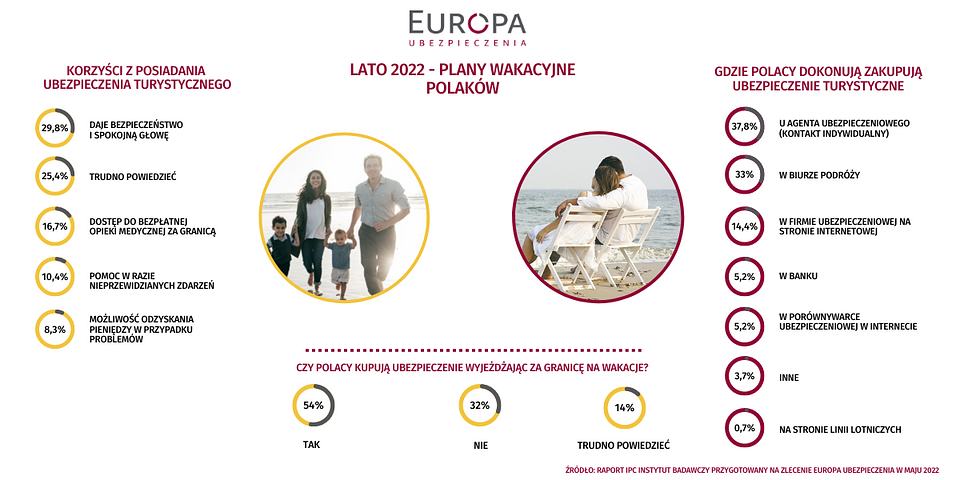 The survey "Summer 2022. Holiday Plans Poland" was conducted in May 2022 using CAWI's online interview method among a nationwide sample of 500 people by the IPC Research Institute. The structure of the sample is representative of the structure of adult Polish residents.