The film "Elvis" is released in Polish cinemas. The role of the legendary musician was played by 30-year-old Austin Butler. The film also stars Tom Hanks, who plays the artist's manager. The photo shows their complicated relationship. – I wanted to show the American show business, showman and the man in the background. But thanks to the research and journey we've taken, I've learned a lot about Elvis as a human being, the director said of the film at a conference in Cannes.
"When I met him, he had a talent worth a million dollars. Now he has a million dollars" – that's how he once summed up his acquaintance with Elvis Presley his manager Tom Parker. "Colonel" officially took charge of the musician's career in 1955 and held it until 1977. It was he who brought Presley profitable contracts and commercial success, but he was also the one who – driven by greed – made much of his profits. took it and turned it into a "marketing product", replicating the artist's image on millions of gadgets. After Elvis's death, he was accused of contributing to his death by alternately offering the musician sleeping and stimulant pills.
The controversial relationship between the musician and the manager became the main theme of Baz Luhrmann's new filmwhose world premiere took place in May in the non-competitive section of the 75th Cannes Film Festival. During the press conference organized at the time, the director admitted that his image was intended to break the stereotype of Presley as a musical icon, the king of rock'n'roll, while showing the mechanisms that make American show business in that time.
– I am a great Shakespeare lover who, reaching for a historical figure, always asks what theme it reflects. Growing up, one of my favorite movies was "Amadeus" by Milos Forman. Is this a Mozart film, or is it the jealousy between Salieri and Amadeus? About jealousy, of course. So I decided to take a look at Elvis's life, bearing in mind the respect fans had for him and his artistic expansion in the 50s, 60s, and 70s. . But thanks to the research and journey we've taken, I've learned a lot about Elvis as a human being, he recalls.
The director referred to the artist's childhood who was from Tupelo, Mississippi, and was the only child of Gladys and Vernon Presley. As a young boy, Elvis mainly listened to gospel music and bluesman songs. He started playing guitar at the age of 11, but was reluctant to talk about his passion at school. He was not one of the popular guys and no one thought he would be successful in the future.
– Children in adolescence absorb everything around them and then create something new based on it. So was Elvis. He tried his best to say, "I didn't invent rock'n'roll, but I gave it my own style, so don't call me king." He was an incredibly sensitive, spiritual man – he guessed.
"My Husband Was Here Today"
Luhrmann pointed out that no rating or review of "Elvis" was more important to him than that of Presley's ex-wife Priscilla. "I can't say how long I watched the movie in those two hours […]† Finally I got a text from her: "Sorry it took so long, but I had to get myself together. I guess I just wasn't ready yet."
She wrote that every breath, every movement of Austin resembled a real Elvis, not an icon, a person who looks familiar to everyone, because everyone projects an image of her in their head. She wrote, "my husband was here today," the director said.
The movie Elvis "suspended the rest of his life and absorbed absolutely everything" about the musician
For the playing Elvis, Austin Butler, it was a liberating message, as he was trapped in excessive expectations of himself for a long time. He wanted to resemble the musician as much as possible so that the viewer would not notice any differences between them. It took him a while to realize this was not the right way.
"For two years I practically put the rest of my life on hold and absorbed absolutely everything about Elvis. I fell down a rabbit hole of obsession. I divided his life into periods where it was possible to understand the differences in his voice and the way he he moved to discover. By studying them I tried to find the real Elvis. That was the hardest part because most of the time we just see him as an icon. The idea was to discover his true personality. It was the journey of my life – he described.
Tom Hanks, who played Parker, in turn emphasized that Presley's manager was a "pragmatic and brilliant" man who "sees the opportunity to turn individual talent into cultural strength."
"As for his background, I don't think anyone knew about it." There are melodramatic gossip stories about why and how he left the Netherlands. I like to think that he just ran away from a small town to break free from some aspect of his past. Who among us would not take the opportunity to do such a thing? he asked rhetorically.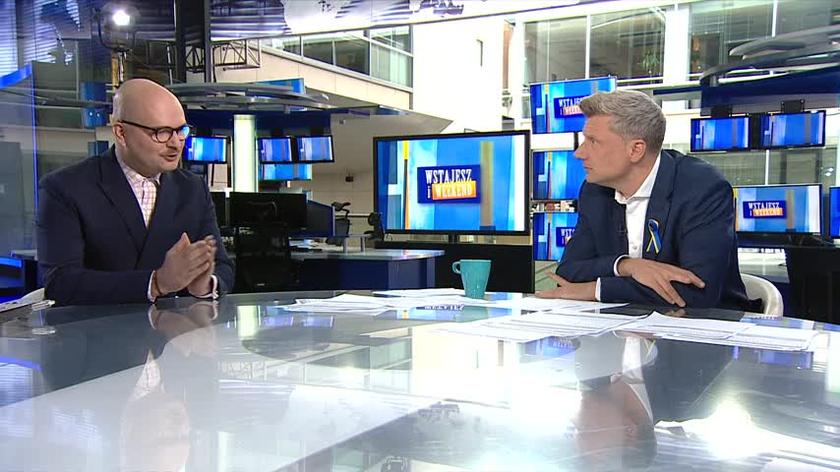 From Friday "Elvis" can be seen in Polish cinemas. In addition to Butler and Hanks, Olivia DeJonge, Kodi Smit-McPhee and David Wenham will be featured on the screen. Baz Luhrmann, Sam Bromell, Jeremy Doner and Craig Pearce are the co-authors of the script. Mandy Walker is responsible for cinematography, Elliott Wheeler for music and Catherine Martin for costumes. The image is distributed by Warner Bros.
Main photo source: photo by Hugh Stewart / © 2022 Warner Bros. Entertainment Inc. All rights reserved