A fashionable handbag is in many ways a unique accessory: it has the power to revive stylization, subtly but significantly change character and emphasize our own characteristics – probably no other piece of clothing can better define our preferences and passions ! We propose which models will be most fashionable this summer.
When you look closely at street fashion photos, fashionable women's handbags stand out first – a well-matched accessory is not only a great accessory, but often a way of sending a signal about who we are to the environment , what is important to us and how we want to be received. "How you look is what you come into the world with, especially in the age of fleeting contacts. Fashion is a language we use at lightning speed" – Miuccia Prada used to say and it's hard not to agree.
Anyway, you don't have to be a fashion expert to know that a handbag is so much more than just an accessory: It's not for nothing that Carrie Bradshaw had a long negotiation with a thief who pointed a gun at her in one episode from "Sex and the City" before making a decision to put himself in the hands of his beloved Baguette. Because it is never "just a handbag".
Each of us has such an icon in our wardrobe or on the dream list. And it is rarely one art, because not only trends and our tastes, but also the need for change.
"In my Stella McCartney bag, I have a passport and supplements that I take every day," Shakira says in one breath. But this is just the beginning of the list, which also includes an eyelash curler. In addition to its obvious purpose, it also serves the road and catches the attention of the star's youngest son, Sasha.
In addition, there is also a textbook by the elder, Milan, and… mini football, which is not surprising in the context of the boys' father being a football player. But the advantages of a shopper or, better yet, a fashionable backpack, will not only be appreciated by mothers – in trends for the summer season, this accessory is mentioned as a must-have, preferably made of high-quality leather in a shade of deep black or with fashionable stripes, as a finish decorated in this style. the look pattern itself.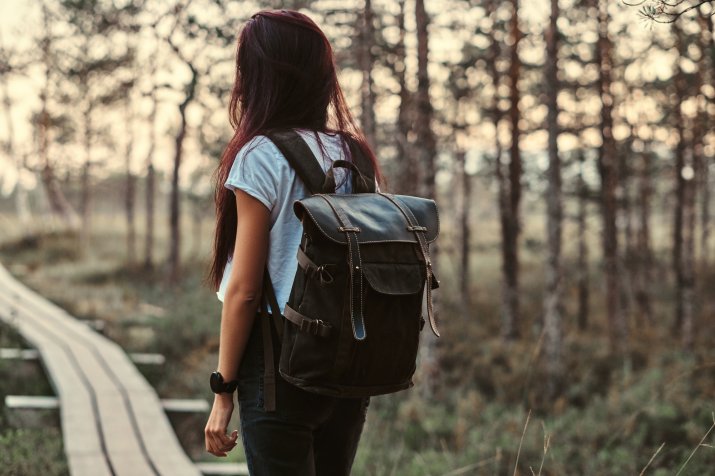 On the other hand, a more sporty design will be perfect for trips to the forest, an afternoon trip outside the city or unexpectedly discovering the surrounding landscapes, alone or in a larger group.
"I always take small snacks for my son, who suffers from motion sickness: it can be water in a small bottle, fruit mousse or even a lollipop" – explains Jessica Alba, who has been photographed more than once wearing a practical, smart complementary casual outfit backpack casually slung over the shoulder. There are more accessories to keep little hands busy: it will be a set of crayons, stuffed animals or a ball, and a camera or a camera that will be used by the actress to capture the moments spent in the lap of nature.
Everything fits in your favorite backpack model decorated with an animal pattern, but the truth is that Alba has a whole collection of them: leather in a cognac shade, chestnut brown with a flower pattern and natural black in a version made of thick canvas – a sure thing that works well. will work both in the company of summer dresses and as a finishing touch to a more sporty styling. In our own collection we would also see a school model in a shade of natural leather, which retains its shape despite wearing and ages beautifully, making it a fashionable accessory for years to come.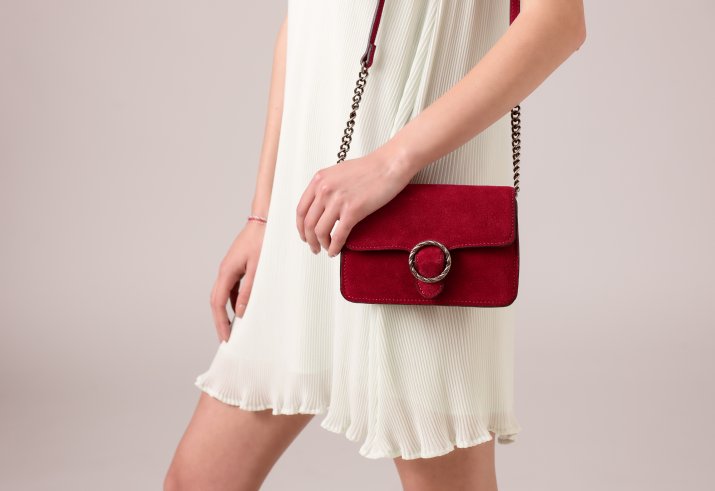 Okay, how about a more elegant handbag style that can be worn with a dress? During the last fashion week, influencers opted for several styles: Leonie Hanne, among others, caught the eye, who proudly presented the XXL clutch in a fashionable intense yellow color combined with simple classic styling. There were also cuts referring to the retro style, those decorated with discreet ruffles, small handbags on a chain and classic solutions, ie shoulder bags on a thin strap.
The latter proposition is probably at the top of every dream list because of its timelessness – it is one of those solutions that each of us should have in our wardrobe, regardless of the season, because it is an intuitive choice, complements the formal situation and works a bit as elegant jewellery: goes in duet with a little black dress, with an oversized suit or jacket, but also with a loose cashmere sweater or casually thrown over her shoulder over a spring coat.
And don't be fooled by the small size: Salma Hayek has in her handbag a mini hand cream, aromatherapy oil and a souvenir made with the hands of her daughter Valentina. As he says, something as small as that makes it easier to bear the divorce the longer she goes and makes her feel better all the time. In addition, such a mini bag certainly contains lipstick, a payment card, car keys – and that's all, that's all you need.
Which color will you choose this season? Red received very high marks in trendsetters' predictions, but it is also worth giving other juicy colors a chance: green in the shade of freshly cut young grass will play perfectly with a classic beige trench coat, vibrant orange will be a black brighten up the dress, the aforementioned highly pigmented yellow will complement the white styling, and the intense pink – it will be a good choice in any of the above situations.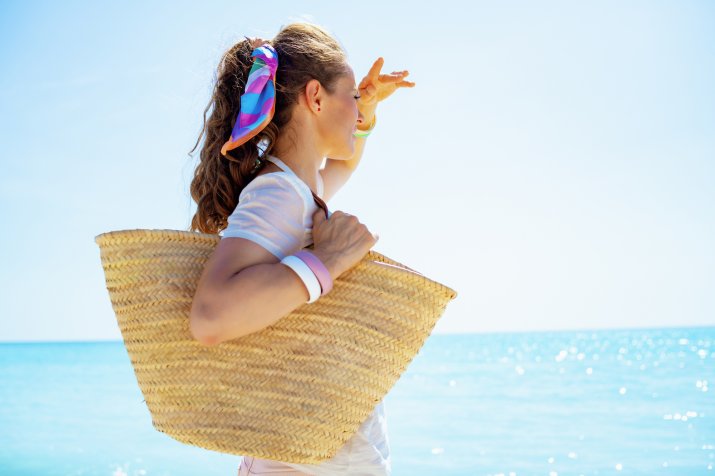 There is one more item that we should not forget when putting together a summer wardrobe and that is a beach bag. The slogan in the classic edition is in front of your eyes: straw yellow in XXL format, on long comfortable straps to throw over your shoulder or shorter ones, learn to hold in your hand (preferably with both) – in any case just think about it think about it, the purchase brings us nicely on the desired holiday.
Importantly, despite the fact that it has a clear purpose, it is worth taking a moment to choose it – it can be an extremely stylish accessory not only for the beach, but also for visiting coastal towns, romantic evening strolls for two or for little holiday shopping. It is good if, in addition to a pleasant appearance, it has an equally satisfying interior: lined with a pleasant fabric, it will make reaching it an additional pleasure.