As soon as the war in Ukraine started, the creative agency Rebell Concept, owned by Bartłomiej Pałubicki, helped the victims. Just the less obvious – animals. Food and necessities were collected at the company headquarters and many famous people were involved in the campaign.
Bartłomiej Pałubicki says that the main job of a PR person is to react quickly to current events. So when the war started, it was clear that his PR firm, Rebell Concept, would come to the rescue. It soon became apparent that not only people but also animals are victims of war and need support. The head of the bureau remembers that it was difficult for him. No one around him was surprised by this. Everyone knows that he loves animals – in addition, his two dogs often accompany him at work, as they run around the grounds of the historic tenement house on Mokotowska, where the office is located.
– I have always been close to nature. As a child I went to Kashubia, to my grandmother, where there were dogs, cats and chickens. I used to go mushroom hunting or fishing, swimming in the lake, catching crayfish and beetles. Today I probably wouldn't catch it anymore, but I still love the company of animals. They give us selfless love. And we humans are responsible for their fate. When I come home my two dogs run happily to me, they are always happy. I treat them like family, I sleep in bed with them. I'm surprised by people who don't like animals, says the owner of Rebell Concept.
Step by step action
So he used his knowledge with Magdalena Słowińska of the Viva! and turned to her and suggested that she organize a collection of animal supplies at her company, because it is conveniently located and it will be easy for donors to find it here. Moreover, he knew that as a PR person he could make this initiative famous, because volunteers who save animals do not have such opportunities. Not only time, because – certainly in the early stages of the war in Ukraine – they traveled days and nights to transport animals to the border or war zones. Bartłomiej Pałubicki made his own poster with information about the fundraiser and, using his professional contacts, sent it to celebrities, actresses and singers. The action soon turned red.
– The next day people started knocking on the desk door and bringing different things. I was very impressed with their willingness to share. They heard about the action from their friends' influencers, befriended agencies or from posters on the doors of nearby boutiques and took part, says the owner of Rebell Concept.
Famous Animal Faces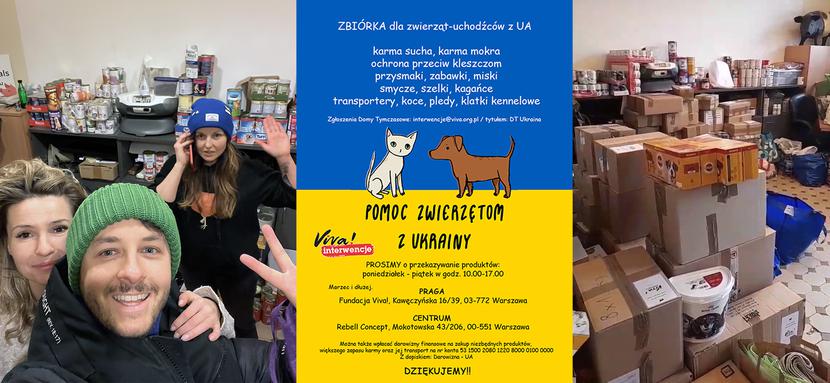 The key to success was the proper publicity of the initiative. Many recognizable faces became involved. Magda Gessler shared information about her on her social media, but also shared the websites of her own restaurants, Joanna Krupa told Dzień Dobry TVN about the campaign. In addition, they informed Joanna Przetakiewicz, Marta Wierzbicka, Marieta Żukowska, Mela Koteluk, Kinga Rusin, Małgorzata Ohme, Ania Rusowicz, Małgosia Socha, Karolina Ferenstein and Katarzyna Sokołowska, among others. The boss of Rebell Concept was not only surprised by the amount of help he received, but also by the enthusiasm of the donors. Some of his encounters with them he remembered exceptionally well.
– I was most touched by the lady who called – I don't even know where she got my number because it didn't show up on the posters, I don't know if she used social media either, she was definitely retired, at least she said that because of the age can not bear, but would really like to bring something. I advised her collars and anti-tick drops. She brought them, and out of gratitude I gave her a small item from my other company – Vesta Warsaw vintage eyewear. In March, we collected more than two tons of food in the agency itself, as well as several dozen transporters needed to keep animals during the trip – says Bartłomiej Pałubicki.
A drop in the sea of ​​needs
He adds that at the same time, the fundraiser took place at the foundation's headquarters. Viva! gave everything to needy animals from Ukraine.
– Obviously this is a drop in the ocean, but the project was executed out of hours by an intimate, boutique agency, so we're proud. And even more motivation to help. Since we can collect two tons of pet food and hundreds of other gadgets thanks to overwork and the support of people, it is worth thinking about what major brands could use – explains the head of Rebell Concept.
Anyway, as he adds after a while, many of them help in different areas. And that includes his customers. The Swiss Victorinox makes school kits for the youngest war victims, the underwear brand Samanta supported the Polish humanitarian action, the Scandinavian Cellbes donates clothes to Ukrainians and Patrizia Aryton offers work to Ukrainian seamstresses.
From a blog to your own desk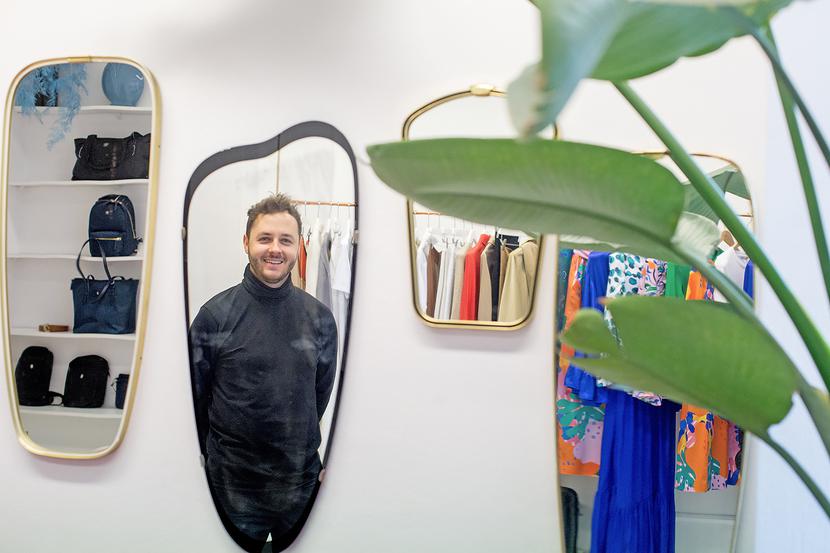 When asked what he likes to do outside of work, Bartłomiej Pałubicki hesitates for a moment, because there is almost no time for this kind of activity. He has always been a titan of work and, with few exceptions, was associated with the fashion industry. He started out as one of the first Polish fashion bloggers, then worked for major clothing brands, PR agencies, but also for LOT Polish Airlines.
– I liked what I was doing everywhere, but in a clearly ranked position I couldn't fully realize my potential. I felt that after years of working and going through all the stages, I was ready to start my own agency. That's why I decided four years ago to take my experience and the network of contacts built up over the years and do it – says the owner of Rebell Concept.
He didn't take the help of investors – he renovated his office together with his friends who helped him paint the walls. Today, the tastefully finished rooms are home to showrooms of brands with which Rebell Concept collaborates – including Polish clothing brands: Patrizia Aryton, Tatuum, Samanta and Bombshe, as well as international brands such as Swiss Victorinox, German Fielmann or Scandinavian Cellbes. The core of the company consists of two people – Bartłomiej Pałubicki and Adrianna Kruszewska, junior PR manager, but the agency also works with people responsible for social media, set design and distribution.
Help in many ways
He still has a passion for work – to such an extent that even his greatest hobby is in the office, where vintage things he hunts achieve: vases, cups, cigarette cases, selected and sold through his Vesta Warsaw platform. He keeps a large collection of them in one of his office rooms. And on the walls are vintage mirrors that he spotted online.
– Besides, like everyone else these days, I like to eat healthy and good. In fact I am a nutritionist, maybe I should regret that I never took it seriously … Probably today, when everyone wants to eat healthy, I would have a lot of customers! – the boss of Rebell Concept jokes. "But still, what I do is best for me.
He means not only agency work, but also charity work, which is important to him and the idea that he would like to spread.
– Now we are reacting to the war, but during the year you can find time for many things. In December, for the second year in a row, we collected gifts from the "Letter to Santa Claus" for one of the care and education centers. We organize different collections. My clients are often involved in this and other help as well. My motivation to help is probably not business, but personal. But thanks to my company, I have the opportunity to reach a wider group of people, and thanks to my sense of organization, I also try to help those who need a gentle encouragement or guidance to do that, concludes Bartłomiej Pałubicki.